Discover the Healthiest & Best Tasting Water in the World! Discover Ionized Water from AlkaViva.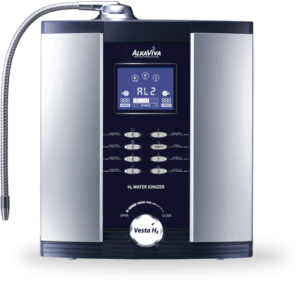 Ionized water is the produce of a mild electrolysis which takes place inside the ionizer. Tap water enters the ionizer where it is filtered and reformed to create a reduced water with a large volume of electrons that can be donated to active oxygen in the body to block the oxidation of normal cells. While very popular in Asia for last 20 years, the water ionizer is still rather unknown in the west. We invite you to discover the amazing research and benefits of ionized water by visiting AlkaViva's website.
AlkaViva Ionized Water offers
Alkalinity
Disease cannot thrive in an alkaline environment; ionized water restores alkalinity and flushes acidic toxins from the body.
Oxygen
Ionized water delivers much more oxygen to your cells than tap or bottled water.
Hydration
Far more absorbent and more easily penetrates your cells.  Cells begin to work at peak performance.
Great Taste
Ionized water is the cleanest best tasting water you will ever drink.
AlkaViva offers customizable filtration according to each persons unique water properties.
Alternate Design Plumbing, Inc. is proud to be an authorized distributor for AlkaViva.
CALL TODAY to get your alkaline ionized water!